Thank you for considering The Lawrenceville School! Detailed below are all the steps in the application process in order. The Inquiry Form will always be the first step for all applicants.
The Admission Team is always here to help! If at any time you have questions or comments or need assistance with any part of your application, please reach out to us at admission@lawrenceville.org.
Submitting an Inquiry Form is always the first step for all applicants. An Inquiry Form may be submitted at any time of year but must be received before any other application materials, so please allow enough time to complete the rest of the process.
Should You Apply as a Boarding or Day Student? →
Day Student Applicants
The following perimeters define the boundaries within which families are expected to apply as day student candidates. All candidates outside these boundaries will be considered boarding applicants. A family's legal permanent address, as listed in the application, is used to make that determination. Any potential rare exceptions to this policy are determined on an individual basis by the Office of Enrollment Management.
Beginning with I-95 to the west of campus, moving clockwise: 95 intersects with 195 to the south, then Rt. 29 moving to Rt. 1 heading west. From there, where Rt. 1 intersects with Rt. 413 headed north, intersecting with Rt. 202 headed northeast. From that point, where Rt. 202 intersects with Rt. 287 heading east, to Rt. 18, which proceeds to I-95 to complete the loop.
The perimeter of this boundary is defined by specific towns, from which families must apply as day student candidates. Please refer to the towns and map below as a reference.
New Jersey - Flemington, Hillsborough, New Brunswick, East/West Windsor, Plainsboro, Hamilton, and Trenton.
Pennsylvania - New Hope, Newtown, Upper/Lower Makefield, and Yardley.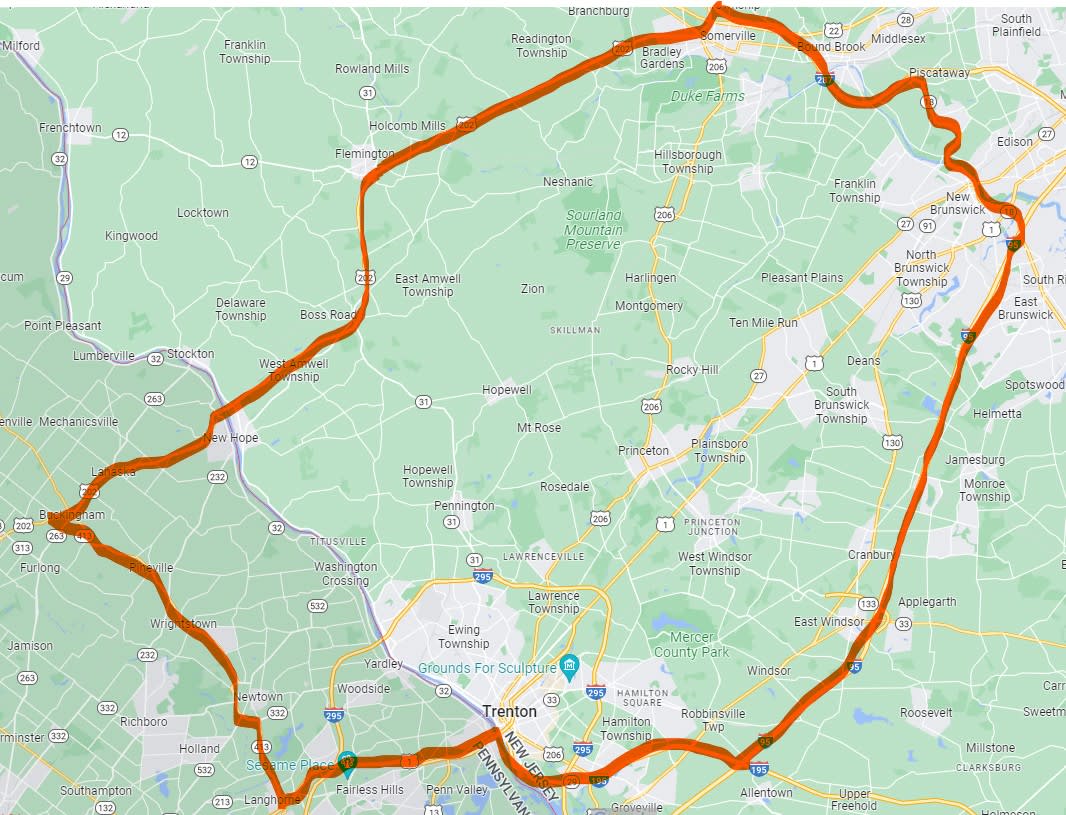 Interview and Campus Visit
Once you've submitted your
Inquiry Form
, you'll receive a link to sign up for an interview. Interviews are typically conducted from September through January. On the interview date you select, you'll meet with one of our Admission Counselors either on campus or a video conference. Before your interview, you'll receive communication and instruction from our office and have opportunities to learn more about Lawrenceville through Virtual Information Sessions.
Day students are to complete their interview by November 3.
If you've scheduled a
campus tour
, you'll have the opportunity to see our campus through the eyes of a student tour guide and to connect with other members of our community.
All international students attending school in China, Hong Kong, Vietnam, South Korea or Brazil who are interested in applying to Lawrenceville must
schedule their interview through Vericant
, a trusted video interview service. We are proud to join the list of top colleges and universities as well as peer independent schools utilizing Vericant to provide you with this personal touch to your application. Please note your Vericant session carries the full weight of fulfilling our interview requirement.
The Lawrenceville application deadline is January 15.
While Lawrenceville accepts both the Standard Application Online (SAO) and the Gateway to Prep School Application, we recommend using the Gateway application.
You can see the steps to completing a Gateway application in
this video
. Please refer to the Gateway checklist to make sure you've submitted all required documents for the Lawrenceville application process.
Supplemental Application Materials
Application Fee
$50 for Domestic Candidates
$100 for International Candidates
Domestic candidates, please email our office at
admission@lawrenceville.org
to request an application fee waiver if you are experiencing financial hardship.
Be sure to list The Lawrenceville School code 4564. Send a copy of the past year Federal Income Tax Return and W-2 Form to SSS and follow instructions listed on the SSS website. In case of divorce or separation, both parents are required to complete the Parents' Financial Statement.
Testing
Required testing must be completed by January 15.
Admission
Decision
Admission decisions will be released on March 10. Applicants will be able to view their decision on their Admission Portal. For admitted students, there will be several opportunities to get to know Lawrenceville even better in March and April.
Discovery
Days
For admitted students, there will be several opportunities to get to know Lawrenceville even better in March and April. The main event is a visit to campus with the chance to attend class, meet future classmates, teachers, and coaches, and learn about what life is like as a Lawrentian.
Enrollment
Notification
We ask families to confirm their enrollment at Lawrenceville by April 10, as we welcome another incoming class of Lawrentians!